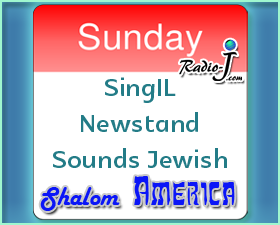 The Best of IDC Radio & More on Radio-J Sundays
Every Sunday
Radio-J
brings listeners a special variety of programming featuring the best of Israel's IDC University Radio, plus Mississippi Public Radio's Sounds Jewish with Andy Muchin, and the Sunday edition of
Radio-J'
s flagship program,
Shalom America
.
The Sunday schedule begins with the live broadcast of
Shalom America
from 7-9 am (US-EST), followed by a special edition of
The Mix
.
At noon eastern time, IDC Univeristy Radio's
SingIL
presents an informative and entertaining hour of the latest Israeli music blending profiles of artists, composers and lyricists - in English- with a chance to hear the freshest music in Israel. Followed by
Newstand
, IDC Radio's English language public-affairs program that combines hard-hitting interviews with Israeli newsmakers and analysts and edgy political commentary with a unique mix of music, hosted by Etai Handman and Sophie.
Join Andy Muchin at 2pm eastern time for
Sounds Jewish
, the most original Jewish program on the radio. Each week Andy finds music and comedy ranging from popular to obscure and from the ridiculous to the sublime, centered around that week's theme. melding secular, chassidic, klezmer, folk, pop, and even country music into an entertaining hour from Missippi Public Radio.
Then stay tuned for the repeat broadcast of
Shalom America
, with entertaining interviews, the newest Jewish music, the news from Israel and more, followed by a one hour edition of
The Mix
.
The Sunday schedule (
SingIL, Newstand, Sounds Jewish, Shalom America, and The Mix
) repeats at 6pm, midnight, and 6am eastern time, so if you miss something the first time around you've got plenty of chances to hear it again.
Make your Sunday extra special by tuning in to
Radio-J
for the
Radio-J
Sunday schedule.
---
Download the new Radio-J Spring 2015 schedule and use our easy to read programming grid to learn when you can hear your favorite programs on Radio-J.com.

As always, be sure to follow Radio-J on Twitter (@RadioJCom) and on Facebook (http://Facebook.com/RadioJCom) for the most up to the minute news from Radio-J, including program updates, schedule changes and more.