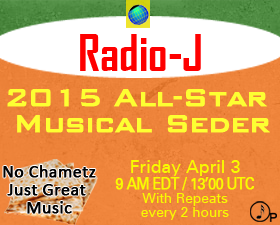 Radio-J has the soundtrack for your Passover-prep
Tune-in to Radio-J.com on Friday, April 3 beginning at 9am EDT (UTC-4) for the 2015 edition of The All-Star Musical Seder, a Radio-J tradition.
No holiday is more musical than Pesach [Passover], so let Radio-J serve as the soundtrack for your holiday preparations, with The All-Star Musical Seder hosted by Shawn Fink, host of Radio-J's weekday program, The Mix.
Join Shawn for a two-hour program of Passover seder musical favorites spanning more than 7 decades of recorded music. Interspersed between the songs, Shawn will explain the rituals of the seder, and provide background information about the history of the performers and their songs.

The All-Star Musical Seder features performances by 30 different artists including: Avraham Fried, Moishe Oysher, Lipa Schmeltzer, The Diaspora Yeshiva Band, Sam Glaser, Paul Zim, Yaakov Shwekey, Â Dudu Fisher, Yonatan Raizel, Rick Recht, Craig Taubman & Laurence Juber, Theodore Bikel, Sol Zim, D'Veykus, The Rabbis Sons, and more!

The two hour program will be broadcast on Radio-J.com for 12 consecutive hours  beginning at 9AM Eastern Daylight Time (US)/13'00 UTC on Friday, April 3, and repeated every two hours.
---
Download the new Radio-J winter 2015 schedule and use our easy to read programming grid to learn when you can hear your favorite programs on Radio-J.com.

As always, be sure to follow Radio-J on Twitter (@RadioJCom) and on Facebook (http://Facebook.com/RadioJCom) for the most up to the minute news from Radio-J, including program updates, schedule changes and more.