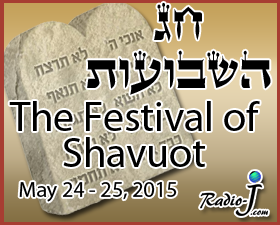 Radio-J takes Shavuot off
Radio-J will be off the air in observance of the festival of Shavuot, beginning Friday, May 22 at 8:00 pm US-EDT (UTC - 4), and returning to the air on Monday, May 25 at 10:00 pm US-EDT (UTC -4).

Our Sunday programming will be aired on Tuesday, May 23 following Shalom America Worldwide, in place of The Artist of the Day and The Mix at the following times:
Program
Name
Time US-EDT
(UTC -4)
Replays at US-EDT (UTC - 4)
SingIL
11:00 am
5:00 pm / 11:00 pm/ 5:00 am
Newstand
Noon
6:00 pm/ Midnight/ 6:00 am
Sounds Jewish
1:00 pm
7:00 pm/ 1:00 am/ 7:00 am
Chag Sameach/Gut Yontif [Happy Holiday] from everyone at Radio-J.com and Olam Broadcasting Inc.

---
Download the new Radio-J Spring 2015 schedule and use our easy to read programming grid to learn when you can hear your favorite programs on Radio-J.com.

As always, be sure to follow Radio-J on Twitter (@RadioJCom) and on Facebook (http://Facebook.com/RadioJCom) for the most up to the minute news from Radio-J, including program updates, schedule changes and more.