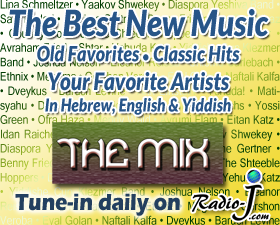 The Best Jewish & Israeli Music Daily on "The Mix"
Radio-J's popular mid-day program, The Mix has updated it's format with even more variety and diversity in music, from the latest hits to Israeli classics, from the best Yeshivish tunes to contemporary favorites, from slow heartfelt tunes to fast-paced dance music to comedy tunes, The Mix offers the most variety of any Jewish music program on the radio or online. Each weekday host Shawn Fink takes you on a musical journey through the best in Jewish and Israeli music, while on Shabbat and Sundays The Mix features the same top-notch musical blend without interruptions.

Download the new Radio-J autumn 2014 schedule to find out when The Mix is serving-up this musical buffet, and use our easy to read programming grid to learn when you can hear your favorite programs on Radio-J.com.

As always, be sure to follow Radio-J on Twitter (@RadioJCom) and on Facebook (http://Facebook.com/RadioJCom) for the most up to the minute news from Radio-J, including program updates, schedule changes and more.