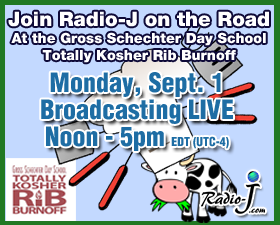 Radio-J on The Road
Monday, September 1
The latest edition of "Radio-J on the Road" will take place on Monday, September 1, US Labor Day, as Radio-J broadcasts live from the 22nd Annual Totally Kosher Rib Burnoff to benefit The Gross Schechter Day School in Cleveland, Ohio.

Radio-J's Phil and Shawn Fink will host an afternoon of music, interviews, and entertainment from the largest summertime Jewish event in Ohio, beginning at noon US Eastern Daylight Time (UTC -4) and continuing through 5pm EDT.

Those in the Cleveland area are invited to join the broadcast in person and partake of the 100% kosher food that will be offered from more than a dozen businesses and organizations. If you won't be in Cleveland for Labor Day, you can still tune-in to hear the fun and excitement – including the crowning of the Rib Burnoff champion – on Radio-J.com.

For more information about The 22ndAnnual Totally Kosher Rib Burnoff visit www.grossschechter.org/RBO .

"Radio-J on the Road" is a continuing series of broadcasts from across North America focusing on events and areas of Jewish interest broadcast live on Radio-J.com. Previous editions of "Radio-J on the Road" have taken place at The Chicago Jewish Festival, The Royal Ontario Museum, Kennywood Amusement Park, and The IX Indoor Amusement Park, among others.

For complete details about programming on

Radio-J

, download the new

Radio-J

summer 2014 schedule and use our easy to read programming grid to learn when you can hear your favorite programs on

Radio-J.com

.

As always, be sure to follow

Radio-J

on Twitter (@RadioJCom) and on Facebook (http://Facebook.com/RadioJCom) for the most up to the minute news from

Radio-J

, including program updates, schedule changes and more.