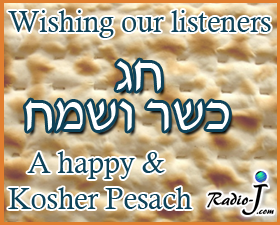 Happy Passover from Radio-J
In observance of Pesach [Passover], Radio-J will be off the air beginning at 8pm US-EDT (UTC-4) on Monday, April 14, 2014 and will resume broadcasting at 9pm US-EDT on Wednesday, April 16, 2014.
During Chol HaMoed [the intermediate days of the holiday], please tune-in for a non-stop mix of music including Pesach favorites.
On Sunday, April 20, Radio-J invites you to listen to a special lIVE Chol HaMoed broadcast from the I-X Indoor Amusement Park in Cleveland, Ohio beginning at 11am US-EDT.
From all of us at Olam Broadcasting Inc. and Radio-J.com, our best wishes for a happy and kosher Pesach.
As always, be sure to follow Radio-J on Twitter (@RadioJCom) and on Facebook (http://Facebook.com/RadioJCom) for the most up to the minute news from Radio-J, including program updates, schedule changes and more.