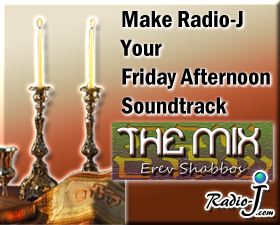 "The Mix -
Erev Shabbos

"
Every Friday

Whether you call it "Shabbos" or "Shabbat", whether you wish your friends "Shabbat Shalom" or "Gut Shabbos", and whether you live in The USA, Canada, The UK, France, Morroco, or Israel, Friday means that The Sabbath -our special day of rest - is approaching, and Radio-J wants to help get you in the Shabbos mood.

Every Friday, Radio-J presents a special Erev Shabbos [Sabbath Eve]edition of "The Mix" featuring old Shabbos sing-along favorites and new Shabbos tunes as well. Host Shawn Fink spins the tunes, and provides you with Shabbos candle-lighting and Havdalah [end of Shabbos]times for cities around the world, as you prepare the matzah-balls, challah, and brisket.

Tune-in each Friday at Noon Eastern Time (UTC -4/Israel -6), only on Radio-J.com.


As always, be sure to follow Radio-J on Twitter (@RadioJCom) and on Facebook (http://Facebook.com/RadioJCom) for the most up to the minute news from Radio-J, including program updates, schedule changes and more.