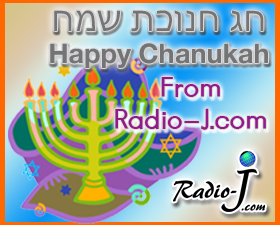 Celebrate

Chanukah

with Radio-J
Light-up your olive-oil and candles, fry-off some latkes, get your dreidle spinning, and tune-in to Radio-Jfor the very best in Chanukah music all Chanukahlong.
Radio-J will be featuring Chanukah music every weekday during Chanukah beginning Wednesday, December 17 with special four hour editions of The Mix. We'll be playing the latest Chanukah hits as well as all of your Chanukah favorites from years past, as The Mixdoubles in size for the eight days of Chanukah. We'll be replacing The Artist of The Dayand Rock B'Ivrit for the week to be able to squeeze-in even more Chanukahentertainment. Also listen for a special replay of this year's Chanukah edition of Sounds Jewishwith Andy Muchin on Thursday, December 18, check the sidebar for daily programming alerts, and get up to the minute updates by following our Twitter feed @RadioJCom.
Send your Chanukahrequests, dedications and shout-outs to info@Radio-J.com, and listen to hear them read during The Mix each day of Chanukah.
Wishing all of our listeners a חג חנוכת שמח may you have a happy, joyous, and peaceful Chanukah!
---
Download the new

Radio-J

autumn 2014 schedule and use our easy to read programming grid to learn when you can hear your favorite programs on

Radio-J.com

.

As always, be sure to follow

Radio-J

on Twitter (@RadioJCom) and on Facebook (http://Facebook.com/RadioJCom) for the most up to the minute news from

Radio-J

, including program updates, schedule changes and more.